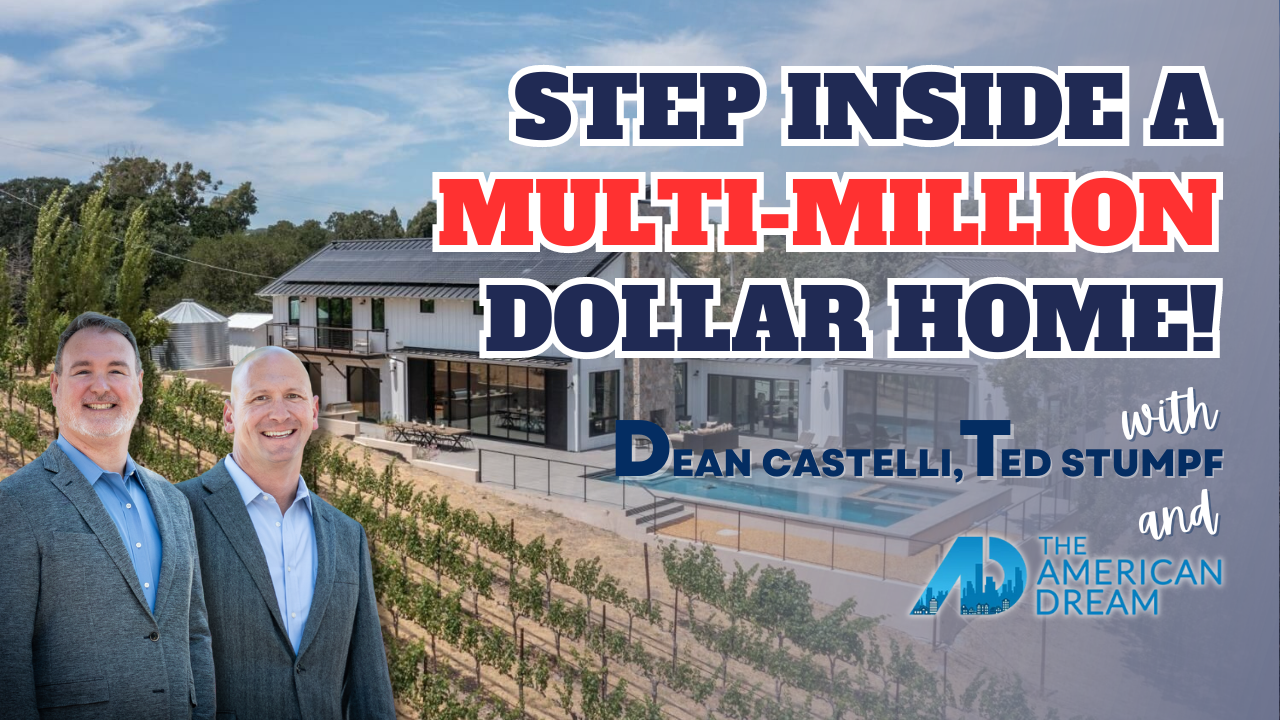 We're back again with The American Dream TV where, as seen on television earlier this year, we share some absolutely stunning Napa real estate listings with you, chat with various Napa local business owners who we believe you should also get to know (and, of course, frequent their establishments) along with providing some great information around Napa real estate.
Below you will find the transcript to this month's video. I hope you enjoy it as much as we enjoyed creating it for you.
Ted: Welcome back to our American Dream television. Today we are in Napa's coveted eastside in the Coombsville district.
Dean: The Coombsville District is named after Nathan Coombs, the founder of Napa, and this area is the newest grape growing region, or viticultural area, in Napa Valley. It's known for its rocky volcanic soils and varying elevations starting at sea level down by the Napa River and going up to almost 2,000 feet at the top of the mountains behind us here.
Ted: If you happen to be out and searching for some good wine and you love Cabernet Sauvignon, pick up something from the Coombsville district; you're going to enjoy a slightly different flavor from slightly different toure.
Well, today we're at this wonderful house that our team has listed here on the Napa eastside in Coombsville, and we want to share with you a little bit about it because it's again so wonderfully inclusive, of wine country living. There's a swimming pool, a hot tub, a 3,000 square foot modern farmhouse, three car garage with an apartment over it, a walk in wine cellar... all of this and amazing views of Coombsville.
So, we're up in the loft of this amazing space, and it overlooks the great room. One of my favorite parts of this whole house is every room has elevated ceilings to some level, providing that huge feel. The house is over 3,000 square feet - three bedrooms, three and a half baths. But it feels so much bigger with these huge ceilings and it's awesome looking at this fantastic fireplace and it's installation.
Dean: In addition to all that, we have high end appliances and fixtures, beautiful white oak flooring and accent wood - truly a beautiful home.
Ted: Hey, welcome back again. We are in downtown Napa in this bustling city and at one of our favorite spots for lunch and dinner, which is ZuZu. And we're here today with Armando Ramirez, Chef and partner here at ZuZu. Tell us what it is all about.
Armando: Yeah, so what we have here is a little bit Spanish focus on Spanish Tapas, northern Spain, and will be the Latin America as well, you know, but mainly paellas and Tapas.
Dean: What's your favorite part of living and operating a business here in Napa?
Armando: Well, my favorite thing is I like to create dishes that support local farmers. But I mean, I like to put new things on the menu all the time. We create dishes with the new and with the old technology.
Dean: While we're in downtown Napa, we thought we stop by another listing that our team has coming up here. This house happens to be the home built by Nathan Coombs in the late 1850's.
Ted: Nathan is the founder of Napa for all intensive purposes. And this home has been lovingly restored over the past 25 years. It's also listed on both the Napa Historical Registry, as well as the National Historic Registry. And, its proximity to Fuller Park, which is a half block away, one of downtown's great parks, and only three blocks to the downtown perimeter; I'd say we're eight blocks to Zuzu, where we just were.
Dean: Well, thank you for joining us today. And again, I'm Dean Castelli,
Ted: and I'm Ted stump and we're with the lefty team at Windermere Napa Valley Properties.
Dean: We're living our American dream here in Napa Valley.
Ted: If you'd like to live your dream here, please reach out to us we'd love to help you with that real estate journey. Cheers!