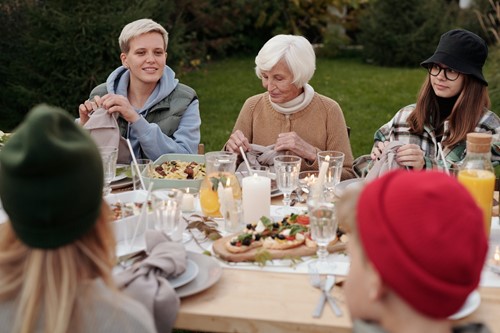 Avid entertainers know the value of a good atmosphere when setting up for their gathering. But even they have difficulty when dressing up their outdoor space for a gathering or full-fledged party.
Here are three quick and easy ways to dress your outdoor area for a successful get-together.
Table Linens
If you're throwing a party in your outdoor living space, you probably have a table or some sort of dining surface. No matter the finish, you can improve any party atmosphere by using a well-placed table linen.
Depending on season, theme and occasion, choose a linen that has a nice amount of contrast against the surrounding décor. For example, if your décor has a rustic, earthy tone, try using a linen that has deep navy blue accents or design elements. Want something that stands out more? Use a solid color table linen that contrasts and complements the color scheme of your outdoor area, using dishes and drinkware to spice up the rest of the dining aesthetic.
Fresh Flowers or Plants
Most of us think of flowers as centerpieces, when entertaining and regular plants as passive décor. However, switching the two could add a little more depth to your gathering décor.
Try placing flowers in upcycled or recycled glass containers, such as mason jars or old drink bottles sans label. Then place the flowers in corners, like side table corners in the farther reaches of the table, on the floor behind the least disturbed seat, on counters, etc.
For plants, try using a wooden container that can either hold the pot the plant is in or one that you plan to use as a planter for the plant. Square receptacles work wonders as centerpieces and plants help tie in the natural surroundings with the furniture.
Before your event, if you're looking to add extra flavor and safety for your guests, wrap LED light strings around your flowers and/or plants to help illuminate the area and increase atmosphere. This can help guests see where they're going without being inundated with harsh glares and gives your area a soft inviting glow.
The Fancy Dishes
Most people have a set of dishes that are only pulled out for a special occasion. For parties and other gatherings, skip the disposables and opt for the good dishes with the fancy design work. Even if the dishes are plain with a style-enhancing shape, use them. Their shape, gloss and orientation are great ways to add accents to your outdoor area, regardless of the theme.
To avoid any mishaps, make sure you have a bussing station for the dirty dishes after each course or serving. This will also help with cleanup and act as a passive request to guests to place the dishes there when finished.
These are but a few of the simpler ways to increase your outdoor party's allure. Even if you want to have a grand gathering with added spectacles, following these three easy steps is a great way to leave guests talking about your gathering in a great light for events to come.